The shipping fee on all Mendi Devices is free, regardless of your location (in available delivery countries).

The amount requested from the shipping company is an import tax you have to pay when your country is outside the EU and US. This information is communicated at checkout and published on our Return Policy page. Please, see it duplicated below :

Link to Shipping & Return Policy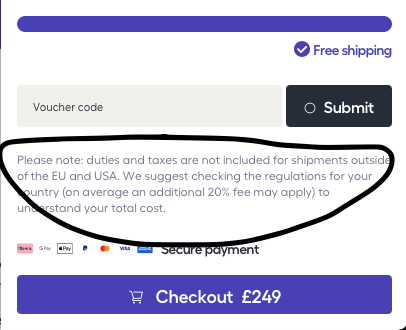 The European Union and USA:
DDP – Delivered Duty Paid
Mendi is responsible for delivering the goods to the named place in the country of the buyer and pays all costs in bringing the goods to the destination including import duties and taxes.
Outside the European Union and USA:
DAP – Delivered at Place
Mendi pays for carriage to the named place, except for costs related to import clearance, and assumes all risks prior to the point that the goods are ready for unloading by the buyer. When transporting goods across international borders, shipments are subject to duties and taxes as determined by customs in the destination country. We suggest checking the regulations for your destination country.

If you no longer wish to receive the order, you may reject the parcel by contacting shipping provider company directly.